Master of Science in Osteopathy
Postgraduate study for licensed health professionals

Master of Science in Osteopathy
Postgraduate study for licensed health professionals

The Master of Science in Osteopathy is a postgraduate program intended for licensed health professionals keen on expanding their practice to include manual osteopathy. This rigorous study is delivered in a self-paced, online format, allowing flexibility to earn your degree in manual osteopathy.
Graduates of LCO's Diploma in Osteopathic Manual Practice (DOMP)   are eligible for direct admission into the M.Sc. in Osteopathy.
Overview
The program will further enhance your competence as a valuable specialist in musculoskeletal care: you will develop osteopathic diagnostic, treatment, and clinical reasoning skills underpinned by a profound understanding of osteopathic philosophy and principles. As a graduate osteopath, you will qualify to implement an osteopathy-based healthcare model into your current practice anywhere in the world.
Program Structure
Module I   – Nine-course curriculum / Core Osteopathic Knowledge

Module II  – Thesis / Osteopathic Research
Access to studies
Upon enrollment, you will receive login credentials to the LCO e-Learning platform at www.studyosteopathyonline.com. There is no due date to complete the program: students follow the studies at their own pace and retain lifetime access to all courses and future updates. Please refer to the prospectus available for download on this page to learn more about program structure and curriculum.
Completion time
The estimated duration of the program is one year. However, because the program is offered in a self-paced online format, dedicated students may complete their studies within a shorter period.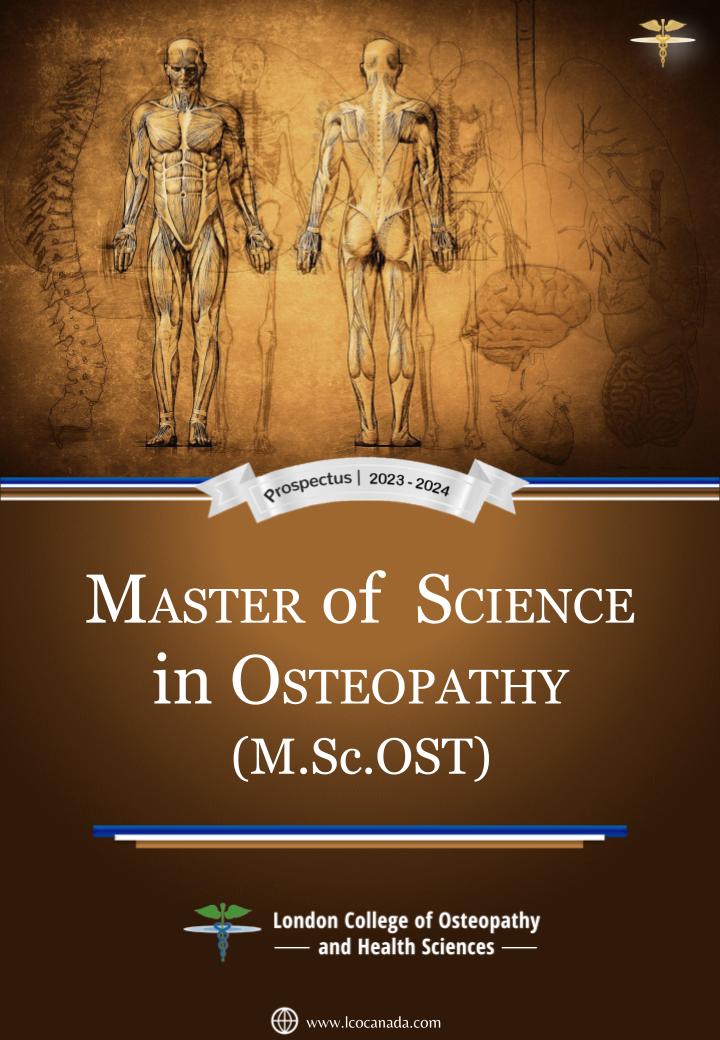 Course Reviews
I would like to thank everybody who gave me the courage to finish my M.Sc.Osteopathy program, especially my parents who always stood by my side. I'm grateful to have the chance to have my master's at London College of Osteopathy and Health Sciences. I admire the professional work at the college during my study; everything was self-explanatory and superbly organized (curriculum,
teaching, instructors support, etc.)