Canine Anatomy and Physiology
Explore the physical structure of the canine body and learn how organs and systems function together to sustain life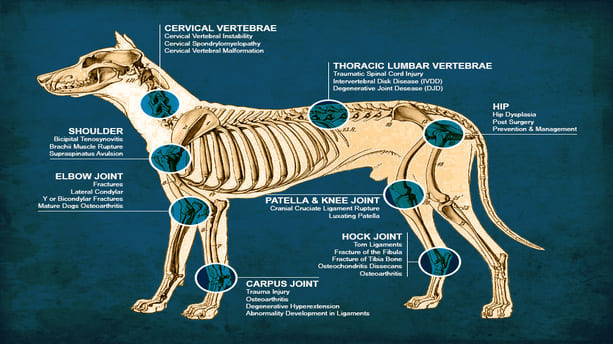 Canine Anatomy and Physiology
Explore the physical structure of the canine body and learn how organs and systems function together to sustain life
Overview
This comprehensive course is intended for animal care professionals, veterinary students, and health practitioners looking to expand their knowledge of the canine body.
Anatomy & Physiology are the essential building blocks for a career in the field of animal health care. To properly understand how an animal grows, moves, digests foods, gets ill or recovers from an injury, you must first understand how structure (anatomy) and function (physiology) normally work together to sustain life.
All body organ systems are reviewed in depth, with particular emphasis placed on the Locomotion System, and biomechanics of the spine and major joints. Included is a study of cells, tissues, integumentary, skeletal, muscular, nervous, lymphatic, cardiovascular, respiratory, digestive, and reproductive systems.  Students will also learn the pathophysiology of the common canine diseases encountered through injury or aging.
 Objectives
At the completion of the course, students will be able to
Define anatomy and physiology
Discuss the different fields of anatomy
Identify and describe the integumentary system
Identify and describe the musculoskeletal system
Identify and describe the cardiovascular system
Identify and describe the lymphatic system
Identify and describe the digestive system
Identify and describe the respiratory system
Identify and describe the endocrine system
Identify and describe the urinary system
Identify and describe the reproductive system
Identify and describe the nervous system and special senses
Understand biomechanics of the animal movement
Suggest age-appropriate exercise and fitness regiments
Evaluation:
Online quizzes and a Final exam. The passing grade is 75%.
Continuing Education:
Continuing Education Units (CEUs): 8
1 CE= 10 study hours
Completion of this course requires 80 hours
Curriculum
Estimated completion of the course is 120 hours depending on students' previous academic background and time availability. The coursework is delivered through three online lessons and includes:
downloadable lecture presentations

video tutorials

online textbook 

self-assessment quizzes 

communication with a course instructor

Certificate of Completion

lifetime access to course updates
Upon registration, you will receive login credentials to LCO's online learning platform and may begin your studies. Access to courses does not expire: you may follow your studies at the time and pace convenient for you from anywhere in the world.
Lesson 1
Lecture 1.1 Introduction to canine anatomy and physiology
Lecture 1.2 Basic anatomical concepts
Lecture 1.3 Organs and organ systems
Lesson 2
Lecture 2.1 Canine skeletal system and arthrology
Lecture 2.2 Basic concepts
Lecture 2.3 Joints
Lecture 2.4 Axial skeleton
Lecture 2.5 Thoracic limb
Lecture 2.6 Pelvic Limb
Lecture 2.7 Statics and dynamics
Lesson 3
Lecture 3.1 Canine muscular system and exercise
Lecture 3.2 Basic concepts
Lecture 3.3 Muscles of the head and trunk
Lecture 3.4 Muscles of the thoracic limb
Lecture 3.5 Muscles of the pelvic limb
Lecture 3.6 Exercise physiology
Lecture 3.7 Physical exercise through life stages
Course Reviews
The course is very well structured with plenty of additional resources if you want to go back and learn a specific part in depth. I found the lessons are well formatted and I particularly enjoyed the video links suggested.
I very much enjoyed the course! It is really comprehensive, with an abundance of clear illustrations and graphics…made it easy to learn difficult concepts.
I have had a great experience, everything about the learning platform was simple and effective, and my instructor was there to help me. I was able to progress through my study on my own time frame, not having deadline to finish the study was very convenient.
Certification
Click on the image below to view a certificate model